ENROLL A CHILD
We provide the perfect education for your child every day
MISSION
The mission of Learn and Smile is to provide a safe and loving environment for children as they learn to become critical thinkers, collaborators, innovators and future leaders.
VISION
Learn and Smile will be recognized as leading preschool to provide children with socialization skills, building their self-confidence and teaching them the preliminary skills to explore and experience the world.
ACTIVITIES AND ENRICHMENTS
ENCRICHMENT CENTERS
Children learn best in an environment, which allows them to explore, discover, and play. Play is an important part of children's developmental growth. It enhances language development, social competence, creativity, imagination, and thinking
skills. Play is also closely tied to the development of cognitive, socio-emotional, and physical behaviors. Resources, toys, blocks and variety of manipulative are thoughtfully selected to create classroom centers, such as Dramatic Play, Math, Science, Blocks, Art, Library and Social Media.
MUSIC AND MOVEMENT
Music and movement instruction has been shown to improve children's memory, cognitive development, learning skills and expressive ability. 
On a weekly basis we have a music and movement enrichment program that allow children to explore variety of musical instrument and opportunities for children to learn new rhythms and songs. Music selections include children's songs, holiday themes, Hebrew, Spanish and Shabbat music.
DRUMS
Drumming is an excellent way for children to learn self-awareness, listening skills, coordination of breath and movement, cooperation and patience. During our weekly Drums Program children gain musical skills and early language and literacy development. While drumming children learn to sing in Hebrew and English.
HEBREW LANGUAGE
Our goal is to expose children to the modern Hebrew language. In every class we have a Hebrew/ English bilingual staff member who implement the lessons in Hebrew and English. As part of our enriched curriculum the children hear and learn Hebrew words relating to the seasons, Jewish holidays and topics discussed in their classroom. Hebrew songs and games are regularly incorporated into lessons as children learn about Jewish values and traditions.
YOGA
Yoga poses are taught sequentially in an age appropriate manner to all age groups. The class is designed to keep the children active in movement through music, singing, and fun props. During Yoga they learn to focus on breathing, balancing and creativity as they move with each pose.
TAI KWON DO
Martial arts training allows children to strengthen in mind and body. While children participate in Tai Kwon Do they the gain self-respect, self-control, self-defense, self esteem, focus, confidence, and courtesy. Our Taekwondo Program offers a vigorous movement as the children integrate coordination and balance.
ART EXPRESSION
Art encourages fine motor skills, neural development, problem-solving, math and literacy skills. Children use variety of art media to express and explore their creativity. At an early age we allow children to discover the sensation of colors, and paint.
KABBALAT SHABBAT
Welcoming the Shabbat on Fridays is a joyous weekly event at Learn and Smile. We welcome the Shabbat by baking challah and preparing delicious treats for Kabbalat Shabbat. During Kabbalat Shabbat we sing songs and await for Shabbat Ima to say the blessing over the candles, and Shabbat Abba to recite the Kiddush-blessing over the grape juice and the Challah.
MESSAGE FROM THE DIRECTOR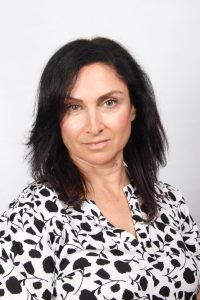 I have been the director of Learn and Smile since 2006. It has been challenging and at the same time exciting for me to witness our transformations. I am very proud of our growth and many accomplishments. In the first year of Learn and Smile there were two classes of three- and four-year-olds, with a total enrollment of 25 students. Over the years, we have enlarged our facility and more than quadrupled our enrollment. Learn and Smile, as many also call it Gan Batia, is known throughout the Hollywood metropolitan area as one of the best Jewish/Israeli Early Childhood Centers, and is a model of excellence for other schools in the area.
Our daily practices and core curriculum are rooted in Judaic content and centered on Jewish/Israeli traditions and values. We encourage children to transform curiosity into inspired learning while teaching them skills of critical thinking, concept development, creativity, communication, cooperation, and confidence.
We embrace parents as our partners, and recognize the importance of family involvement as an essential component in the success of each child. We always strive to support and complement the family in order to promote positive relationship between the parents and us.
I completed my undergraduate education at Queens College in Elementary Education, followed by a Masters in Education at Queens College and a Certificate in Administrative Leadership at Queens College. In 2018, I earned my doctorate from Nova Southeastern University in Education with a specialization in Higher Education Leadership. My guiding philosophy is to meet the needs of each child and family through the application of best practices in early education and my knowledge of child development. I am deeply grateful for the opportunity to prepare young children for success in school and in life!
PLAY & LEARN
Take a look into our day to day life here at Learn And Smile