LEARN AND SMILE
We want children at Learn And Smile to learn, to lead and to make a difference
ABOUT US
QUALITY CHILDREN EDUCATION
We provide a dynamically balanced education for children ages 6
weeks – 5 years in a warm, loving and creative environment. Our
experienced teachers nurture opportunities to expand students'
academic mastery, self and social intelligence through learning, playing
and exploring. We encourage children to grow in independence,
creativity, self-esteem, and self-confidence as they transform curiosity
into inspired learning. Our enriched Hebrew-English bilingual program
promotes critical thinking, concept development, communication,
creativity and confidence. We are an all year round preschool with
limited days off, and provide nutritious Kosher meals and snack to all
student. Our ultimate dedication is to provide children with safe,
healthy, developmentally appropriate care that engages variety of
activities carefully designed to help children achieve key developmental
milestones.
Learning program with after-school
Positive learning environment
Learning through play
PHILOSOPHY
At Learn and Smile, we provide a warm loving environment, enriched
with creativity allowing each child to learn, grow and explore their
surrounding. Through play and academic skills your child will be
encouraged to grow in independence, creativity, self-confidence, self-
control, and self-esteem. At Learn and Smile, Jewish and Israeli
traditions are integrated to provide your child with a meaningful,
exciting, and momentous experience. Our Hebrew- English bilingual
curriculum is designed to help children learn more about the world,
their heritage and their values through hands-on activities and active
involvement.
WE BELIEVE...
MESSAGE FROM THE DIRECTOR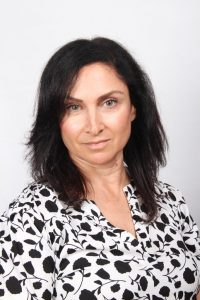 I have been the director of Learn and Smile since 2006. It has been challenging and at the same time exciting for me to witness our transformations. I am very proud of our growth and many accomplishments. In the first year of Learn and Smile there were two classes of three- and four-year-olds, with a total enrollment of 25 students. Over the years, we have enlarged our facility and more than quadrupled our enrollment. Learn and Smile, as many also call it Gan Batia, is known throughout the Hollywood metropolitan area as one of the best Jewish/Israeli Early Childhood Centers, and is a model of excellence for other schools in the area.
Our daily practices and core curriculum are rooted in Judaic content and centered on Jewish/Israeli traditions and values. We encourage children to transform curiosity into inspired learning while teaching them skills of critical thinking, concept development, creativity, communication, cooperation, and confidence.
We embrace parents as our partners, and recognize the importance of family involvement as an essential component in the success of each child. We always strive to support and complement the family in order to promote positive relationship between the parents and us.
I completed my undergraduate education at Queens College in Elementary Education, followed by a Masters in Education at Queens College and a Certificate in Administrative Leadership at Queens College. In 2018, I earned my doctorate from Nova Southeastern University in Education with a specialization in Higher Education Leadership. My guiding philosophy is to meet the needs of each child and family through the application of best practices in early education and my knowledge of child development. I am deeply grateful for the opportunity to prepare young children for success in school and in life!
FIND OUT MORE
We'll be happy to answer any questions